Mob Piru.
Compton's Mob Piru are one of the more well-known gangs due to their affiliation with Suge Knight, owner of Death Row Records. Obvious Tupac/Biggie stories aside, Mob Piru is infamous for being known ryders, beefing on and off with Crip, Sureno and occasionally Piru/Blood gangs. Their closest allies, and sometimes enemies when things flare up, are the Lueders Park Piru. I'd say their main enemies are Compton Varrio 3 (CV3), Compton Varrio 70 (CV70, although this isn't as severe as the war with CV3, it's off and on all the time) and the Palm & Oak Gangster Crips. They also beef consistently with the Santana Blocc Compton Crips. It also must be noted that the majority of Mob hood lies in Lynwood, right north of Compton.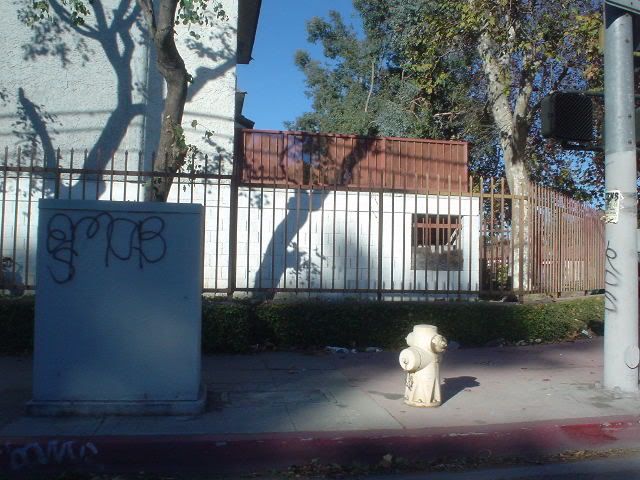 This was just a quick out-of-the-window shot taken along Rosecrans in Compton. It was about a block east of Long Beach Blvd. There are some apartments across from the Compton Fashion Center that are a known Mob Piru hangout. This tag is simple: Eastside MOB, which stands for Money Over Bitches.
This was taken in an alleyway by a gas station on Rosecrans. I had been to this gas station before, where I took a photograph of Compton Varrio Limas Street graffiti. Here is Mob Piru crossing out CVLS. I wasn't even aware Mob Piru was that far over East.
Another Mob throw-up in the same alley. This one means "Insane Mob Gang", one of their nicknames. Right next to is some CV70 graffiti which they didn't cross out, so maybe they aren't beefing right now?
Five Duece Broadway Gangster Crips up next. Thanks for the support thus far.