Harvard Park Brims.
The Brims started in 1969 and were one of the oldest black gangs to still be in existence. They originally wore blue, but sided with gangs like the Swans, Piru Street Boys, Neighborhoods and Bounty Hunters when the blood alliance was formed. They are located in a neighborhood on the west side of South Central, almost completely surrounded by Neighborhood Crips (Rollin 60's, 67NHC & 55NHC) except on their Eastern border, where the 59 Hoover Criminals stay. The Slauson Swapmeet is directly North of their hood if I remember correctly.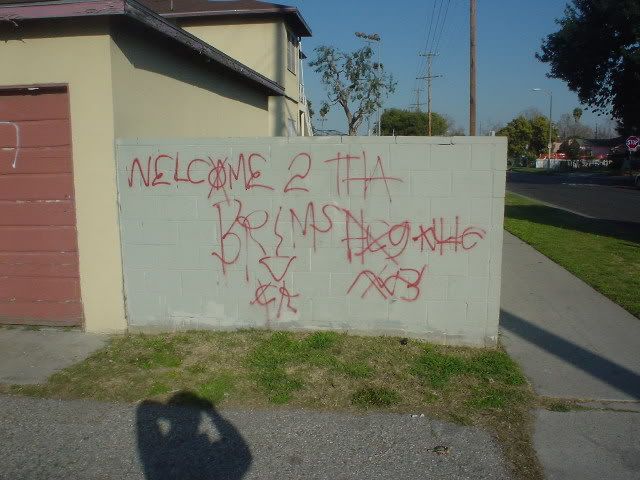 This was taken on 62nd Street right as you enter HPB hood off of Western. It clearly states their main enemies: Hoover Criminals, all Neighborhood Crips and 18th Street, the "largest gang in LA". This is also a block or so from Harvard Park, their namesake. 62nd Street is the main click of Harvard Park Brims.
This was taken off of Western in the parking lot of the Slauson Swapmeet. "Nappk" means "Napp Killer", a diss on Neighborhood Crips. The graffiti to the right that's cut off is Florencia 13, who also are in this general area.