Westside Crip Gangs.
This is by no means a definitive listing of Westside (west of 110 Freeway) Crips, but we rolled through a lot neighborhoods yesterday and got some good photographs and rather than make four posts, I've chosen to lump them all together. We will be touching on some of these gangs again, but I thought some explanation was due. We focused on gangs between Vermont & Western from the Harlem 30's hood all the way down to Eight Tray Gangster, with a couple exceptions.
55 Neighborhood Crips.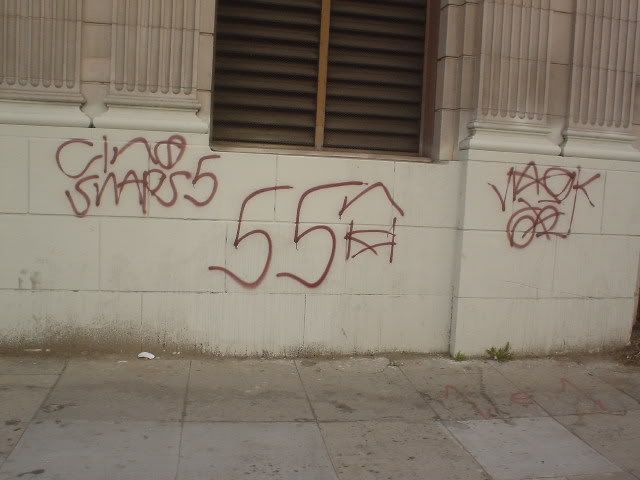 The hood with the most wallbanging done when we rolled through yesterday was 55NHC. This gang had literally every wall and even some houses hit up with their name. The part of LA we were in has been the battlegrounds for a 20+ year war it seems between gangs that identify with Bloods (Bloods & Brims), Neighborhood Crips and Gangster Crips. These were the same neighborhoods where the Rollin 60's Neighborhood Crips & Eight Tray Gangster Crips waged war on one another, forcing Crip gangs to not only take sides but it also paved the way for numerous Crip on Crip beefs and wars, which is as common today and sometimes even more common than Crip on Blood beefs. 55NHC sides with the Rollin 60's and claims the "N" card, which stands for Neighborhood. As far as I know, they claim a smallish neighborhood between 54th Street and Slauson, between Western and Normandie (maybe Vermont?). I'd love for someone to write in and give me the exact info, so feel free. The "H" in their name is crossed out because of their beef with the Hoover Crips/Criminals (they dont claim Crip anymore apparently) which I'm sure was inherited from being alligned with the 60's. They also claim "VNG & 62 Killers", which stands for Van Ness Gangster Brims and the Six Duece Harvard Park Brims.
From the same wall as the other picture, with the "BK" meaning "Blood/Brim Killer". They also fued with the 51 Nothing But Trouble Crips who have apparently been causing them a lot of problems as of late, but street talk is rarely unbiased so I dont know if this is a fact.
Rollin 40's Crip.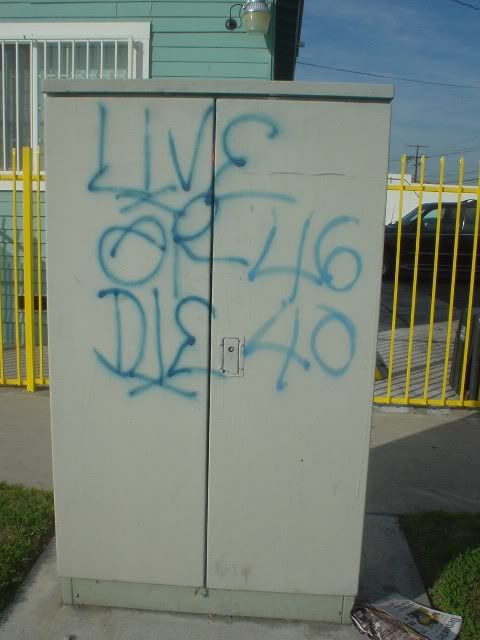 First off, the Rollin 40's are a pretty confusing gang. No disrespect intended, but it's really hard to follow their affiliations, beefs, etc, not that they should be going out of their way to make it easier for non-40's to know whats going on, but you know where I'm coming from. The 40's are split up into a few subsets: Avenues, NHC's (or Original West Sides), Park Sides (aka VSP = Vermon Square Park) and the Darksides. The graffiti above might be confused as 46NHC but it's not. 46NHC are a subset of the Rollin 60's, hence the "6" in their name. Little things like this are deadgiveaways in learning gang alliances and who they beef with. The side of this transformer box had "40's" written across it. The 40's are linked with most all Neighborhood Crips, although at least one of their subsets doesnt claim NHC and the Darksides in particular have beefed it pretty hard with the 60's on and off. Recently, as far as I know the 40's and Harlem 30's have (at least temporarily) squashed their beef but I dont know how long that will last.
Eight Tray Gangster Crip.
Probably the most infamous gang in Los Angeles, mostly due to OG "Monster" Kody Scott's book about growing up and banging ETG prior to and well into the infamous war with the 60's, Eight Tray Gangster maintains the largest turf of any gang in LA, but not the biggest membership. I'm going to have a full post dedicated to ETG's in the near future, so stay tuned.