Florencia 13.
One of the more well known Latino gangs in South Los Angeles, Florencia 13 is named after the Southeast area of LA known as Florence. While that remains their namesake, you can find F13 spread out onto the westside of South Central, making them east and west of the 110 Harbor Freeway. One interesting fact is that they dont fued with any Blood sets, which has always been a big target for Latino gangs. I'm not positive why, but Bloods have always been stereotyped as more vicious and drug-oriented than Crips. Regardless of whether or not there is truth to this, it can be assumed that a lot of these beefs are drug based as money, more times than not, fuels the hood.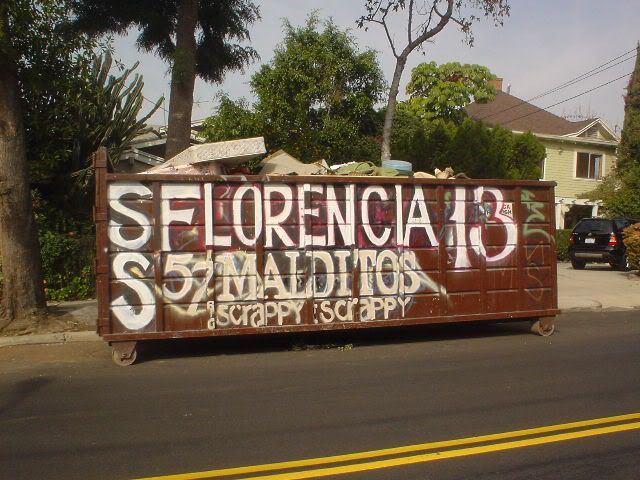 This was actually taken on the side of a huge dumpster (as you can see) in Silverlake, which is 50+ blocks North of their hood. This picture is interesting because it adds truth to two theories: 1) that gangs get a lot of exposure due to tagging on dumpsters and trucks that travel through other hoods and 2) that gang graffiti is such a common thing in LA that a lot of people don't even bother painting over it. This was panted by F13's 57MDS clique, which stands for Malditos. They are the northern-most F13 clique (54th St. being their north border) and fued mainly with other mexican gangs, but also the 59 East Coast Crips. This puts them close to the 62 East Coast Crips as well, who we covered in an earlier post.
This was taken in Mad Swan Blood hood, which is also located in Florence. Mad Swan Blood, who we will cover later, operate between the 70's all the way up to the 90's, which is held down by Family Swan Blood, which could be considered their sister set. Next to the "MSB" on the wall, you can an F13 tag and both are crossed out by Carnales 13, another Latino gang.