52 Pueblo Bishops.
The 52 Pueblo Bishops live in a housing project located at 52nd Street and Long Beach Blvd on the East Side of South Central Los Angeles. They flag red (wear red bandanas) and identify as Bloods. Lately though, a lot of Bloods have chosen to sever ties with the Five Dueces when they declared war on their neighbors to the West, the Blood Stone Villians, enemies. Blood on Blood wars are few and far between and while Crips have been killing Crips for years, the general Blood rule is no red on red beefs. Personal disputes arise, but are usually squashed without any fatalities and it's usually handled between the opposing gang members who had the dispute in the first place. Another example of a serious Blood on Blood war is Compton's Tree Top Piru and Neighborhood Piru.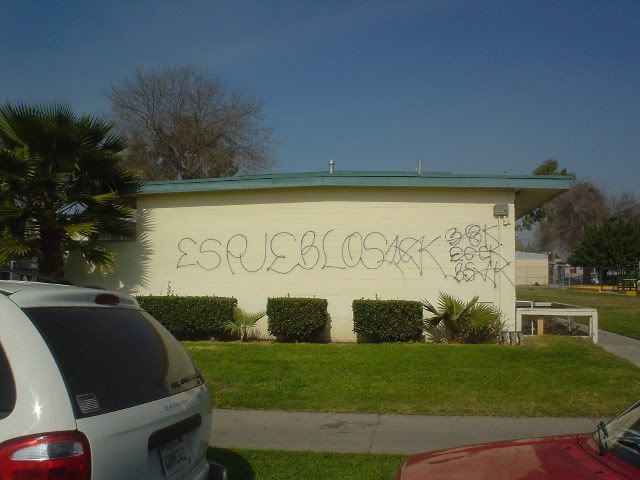 This example of graffiti is on the wall of the project housing unit the Five Dueces call home. ""ES" stands for "Eastside", "Pueblos" is the gang's name, the "1" I can only assume is for their claim of being "#1" and "CK" means "Crip Killers". They also clearly state their enemies: "38" is refering to 38th Street, a mexican gang from the same general area, "ECC" is "East Coast Crips" as a whole (most likely the 59's and Six Pack, which is the four subsets from the 60's: 62, 66, 68 and 69) and the Blood Stone Villians.
This was sprayed on a wall across the street from the project houses on Long Beach Blvd. This area is mostly warehouses and it was basically a free for all of gang tags, mostly done by the Pueblos.
The Pueblo's are mostly black, but have latino members and a latino clique (not sure of the name) that lives within the area that they are cool with. There is also an all Asian Blood gang known as the E/S OBz, which stands for Oriental Boyz. They used to be part of one large gang, but split up into three groups: the E/S OBz which live in East South Central, the W/S OLBz (Oriental Lazy Boyz) who flag red but arent bloods and call Chinatown home and the W/S OBz who live in North Hollywood and are Crips.